Vision Board Workshop Next Week in Stuart
I'm offering a new Vision Board Workshop at DaVinci's Palette in Stuart, Florida, next week.
If you live on the Treasure Coast I hope to see you at the workshop.
What is a Vision Board?
A vision board serves as your image of the future and actually leads you to that future.
On Saturday, January 6, 2018, we'll be creating our vision boards to get clear about what we want to be, do, and have in the New Year.
This workshop is part of the offerings from The Creative Arts Society on Meetup.com.
Get all the details here now.
And don't forget to RSVP if you plan on attending.
The cost for this workshop is just $15.00 which is payable at the door via cash, check, or credit card.
Don't live on the Treasure Coast?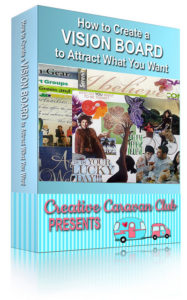 Then get my self-study Vision Board e-course from Creative Caravan here.